Craig
Race Team Member.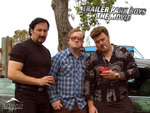 Posts: 10474
Location: Enumclaw, WA
Posted: Sun Jan 29, 2012 11:47 am

Post subject: AOL email users please note

---

Surprisingly we have a handful of members that use AOL (yes, surprisingly that old internet system still exists). Unfortunately AOL is still in their own world and non-compliant with the rest of the internet.

If you use an AOL email address in your profile / account then there is a chance your account will get turned off. The reason is that AOL likes to bounce back emails or refuse connections from the majority of servers out there that are not their own. Typical AOL and is also why users of AOL lose so much email as that is AOL's answer to spam - just block everything or bounce.

Anyway, when that happens the NW3S server gets a bounce back message every time. The only way for us to address this is to remove your address from our system which will require us to turn off the offending account.

So if you use an AOL email address you should do yourself a favor and get a real email address for your profile rather than the ancient AOL system. Even hotmail or gmail is better than AOL (although gmail has been said to scan your emails to spam you with offers).

Sorry for any inconveniece for AOL users but we cannot put out the resources to accomodate such systems that do not work or handle email like the rest of the world.