Craig
Race Team Member.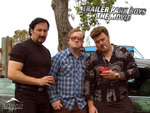 Posts: 10474
Location: Enumclaw, WA
Posted: Tue Mar 20, 2007 2:12 pm

Post subject: To view the posts on NW3S - register

---

Hello and thank you for visiting NW3S Forums.

The NW3S forum is the official site for owners of the 3000GT and Stealth (3S) cars

that reside in the northwest

. That means in a city such as Seattle, Bellingham, Everett, Portland / pdx, Spokane, Salem, Kent, Nampa, Vancouver, Federal Way, Boise, Eugene, Billings and Helena or any other city in WA, OR, ID, MT, or BC.

The forums are not viewable to non-registered viewers so to view the forums you must register. Please go to NW3S HOME and register if you reside in the northwest and are an owner of a Mitsubishi 3000GT or Dodge Stealth. Whether you have a base model 3000 or RT (R/T), SL model, or the VR4 / TT model; these are all "3S".

Registration is easy and approval is usually very fast. Make sure and INCLUDE your car information in order to be approved. The more information you provide the faster your approval (many times within minutes).

NON-NORTHWEST OWNERS - as stated in the membership and account registration process this is just for NW area owners (Washington, Oregon, Idaho, Montana, British Columbia). If you are outside this area you may still join by sending a request to the admin or be sponsored by an existing member. If you just register without those parameters or letting us know ahead of time you will not be approved. We also have guest accounts for visitors to the northwest.



Once approved please make a post in the new member category and introduce yourself (don't just lurk, participate!).

. Your approval email will contain some added information for new members. Please make sure and read your welcome email once your account status is approved.