Craig
Race Team Member.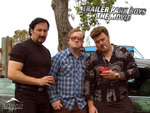 Posts: 10478
Location: Enumclaw, WA
Posted: Sat Aug 18, 2012 3:19 pm

Post subject: Not in the NW but want to join?

---

The rules that the membership has adopted and agreed to as a group is that members must reside in the NW. Meaning WA, OR, ID, MT, BC. That is what the NW (northwest) means to us.

If you are NOT in the NW then you have to ask us prior to approve your membership for some valid reason. Or be sponsored by a member here (someone that knows you and wants you to join perhaps). Or perhaps you used to live here or are moving here. Anyway, there's plenty of exceptions.

If you just register/join without any preapproval then the account will not be approved and will be deleted. We also check IP addresses so please enter your true location or the ban will be permanent.

To request waiver just email the admin here.

Also please make sure and post a simple introduction or your account will be deemed inactive after 30ish days or so.