Craig
Race Team Member.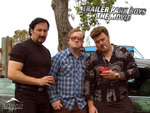 Posts: 10463
Location: Enumclaw, WA
Posted: Sun Jan 29, 2012 11:50 am

Post subject: I can't log in?

---

If you are a member here and cannot log in then please check that you are typing in the username and password exactly as chosen when you setup your account. Passwords are CASE SENSITIVE and must be entered exactly as you chose them.

If you still have problems you can email the administrator and ask about your account. You can check for your original email from the forum system or any notifications and just click REPLY to any of those emails. Please make sure and include your username on the system so we can help you with your account.