Wall Street may still be gasping at the emerging entertainment-oriented investment opportunities coming their way from the motorsports industry, but motorsports fans have known about it all along and their numbers represent the fastest growing spectator sport in the world.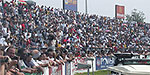 Drag racing offers marketing opportunities that are unsurpassed in sports and entertainment. It delivers a motivated, focused and enthusiastic audience with desirable demographics and fans who respond to products and ideas associated with competition.
| | |
| --- | --- |
| | The venue provides a platform for sponsors to promote products and services. It forges lasting bonds between fans and race teams and puts the corporate partners in the center of the action. Racing delivers an educational and motivated audience more efficiently and more effectively than traditional advertising methods. That's why drag racing sponsorships make good economic sense for so many companies. |
Entertainment - that's what drag race is. Unique to the sport of drag racing is the close proximity of the actual racing equipment and teams. Spectators have the opportunity to visit the pit area, meet the drivers and crews and witness all the racing action of the quarter mile from the grandstands. Motorsports advertising effectively reaches males 16-60, half of whom have and annual income of $45,000 or more. Many racing fans are children, teens, and women and their purchasing decisions are heavily influenced by what they see at the track.
No sport provides a more effective arena for building brand awareness, positioning new products, capturing new customers, strengthening team spirit and sharpening corporate images.
No marketing opportunity will offer you and your customers this much excitement and entertainment!
We already have
your customer market
base in our winner's circle!
Join Us!
---
Marketing and Demographics
Announce to your competition that running on the competitive edge and achieving championship results are the only results you find acceptable.
Re-enforce to your customer and client base that your company is performance driven, competitive and up-to-speed, offering the very best service or products at the best value available today.
Support and enthuse your employees and business associates with a renewed sense of importance of team work and team spirit.
The rule of thumb is that putting $1,000 behind a sports event generates the same exposure as $10,000 in advertising." The Wall Street Journal
Washington State has 3 top motor speedways in the northwest: Kent, Monroe, and Bremerton. With a spectator base of thousands and hundreds of events per season your advertising reaches a large audience. Additionally is the Portland Oregon Speedway and British Coumbia Mission Speedway too!

When we hit the quarter mile drag strip, your company name and logo hit center stage!
Auto racing is one of the most popular spectator sports in the country and has become a premier marketing tool for many businesses.
Auto Racing Sponsorship reaches a valuable and widespread consumer market:
The average auto-racing spectator is 18 to 34 years old, affluent, well educated, and a significant contributor to the consumer marketplace.
A Harris survey of sports reports that one of every four Americans in the 21-29 year old age bracket considers him or herself an auto racing fan.
Sears Roebuck Co. determined that 75 percent of all males between the ages of 17 and 34 have been spectators of at least one auto race.
First National City Travelers Checks estimates that 50 million potential purchases of their travelers' checks attracted each year through automobile racing.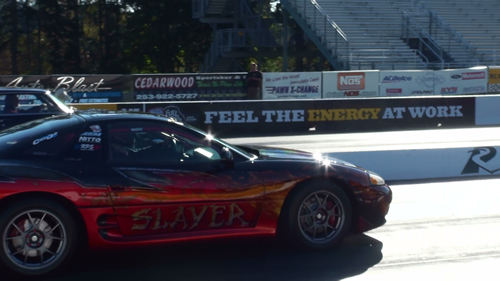 Benefits of our marketing partnership includes:
Re-enforce your company team spirit by rewarding your employees with a day or weekend at the races. Watch the enthusiasm grow.
Reward employee performance or attendance with race tickets, pit passes or a ride in the car!
Images of the race car and race team can be used for photos, advertisements or public relations.
Utilize the car for:
· Appearances
· Grand openings
· Promotional events
· Company picnics
· …and more.
It's the "fast" company that guarantees to make any occasion very special!
As a full sponsor, hear your company's name announced at the start of each race and broadcast to the grandstands
Treat important clients or guests to race tickets and pit passes
Your company information, services and/or products available during public pit area viewing and tours
"Despite economic downturns and internal squabbling, racing remains a viable option for companies looking to promote their brand or services. According to figures compiled by IEG, Inc., which tracks corporate sponsorships in sports, entertainment and charitable causes, the estimated total of sponsorship dollars in auto racing was $1,350 billion.
Golf reached $788 billion, professional sports leagues $555 million, Olympic teams and competition $496 million and tennis $336 million." - Martin Henderson, LA Times.
* appearances and tickets subject to availability. Full sponsorship packages may be required for some appearances.