Next up is the fuel pump. We use the Aeromotive 11102 Pro-series fuel pump. It has some serious flow abilities and is second to none. With a flow to support over 2500 horsepower and -12AN inlet/outlet it outperforms other pumps easily. Note that it is fairly loud (compared to stock) and wouldn't be considered for a daily driver. We use some special mounting material to quiet it down some though (much like the material used on submarines for equipment silencing).
Choosing one large instead of multiple pumps in series is the best way to go we think. This makes sure that if you have a pump failure it is known immediately (your engine stops!). With multiple pumps you can lose 1 pump and the starve your engine of the fuel it needs. This would basically destroy the engine. Multiple pumps also means more to fail (moving parts) and many times increased electrical load.
On the left is the pump load chart showing the flow rate of the pump.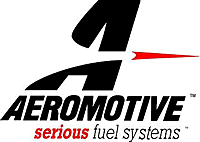 The fuel pump is fed by a -12AN line. This large diameter line comes out of the fuel cell and into a pre-filter then into the pump. All connections and outlets are -12AN size.
The outlet of the pump is brought down to -10AN size. The -10AN braided fuel line then goes up to the engine compartment. Prior to the fuel rails there is another fuel filter.
The other (drivers side) port out of the fuel cell is the fuel petcock shut off right after the fuel pump. This is important for engine removal or fuel line removal.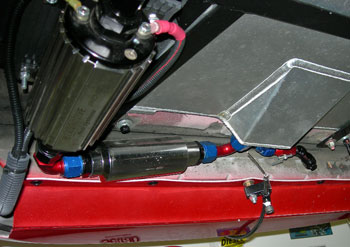 The line below the fuel cell in the clamp is the parachute release cable
in the stored position when not in use.